Welcome to Branch & Vine
Branch & Vine is a gourmet store that prides itself on offering the highest quality products to its customers. The store specializes in gourmet olive oils that are made from the finest olives in Napa, California, and barrel-aged balsamic vinegar that comes from Modena, Italy. The olive oils are cold-pressed, ensuring that they retain all of their natural goodness and flavor. The balsamic vinegar is aged in wooden barrels for a minimum of 18 years, resulting in a rich, complex flavor that is unmatched by other vinegars. 
In addition to these exceptional products, We also offer a wide selection of specialty items such as spices, infused sea salts, infused honey, infused teas, and many sweet and savory balsamic jams. Our products are organic, non-GMO, and gluten-free, ensuring that customers can shop with confidence knowing that they are getting the best quality products available. 
Our store's selection of specialty items is truly impressive, providing an array of flavors that are both delicious and diverse. Whether you are a seasoned cook or just starting out in the kitchen, Branch & Vine has something for everyone. Our friendly staff is knowledgeable about the products and happy to help customers navigate the selection to find the perfect ingredients for their next meal.  
Overall, our Branch & Vine store is a food lover's paradise, offering an extensive selection of high-quality products that will take your culinary creations to the next level.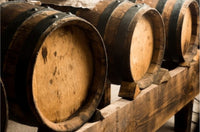 25 Star Barrel Aged Balsamic
Dark as night with a heavenly thick consistency and a sweet, pungent taste that delights all the senses. 
The true artisan quality product from centuries old recipes.  The vinegar is aged in small barrels under the traditional methods with strict controls.  It reaches a perfect balance of aroma and flavor when fully mature.  
Buy Now
Arbequina Mix
Extra Virgin Olive Oil - California Varietal Blend: Arbequina, Arbosana
Two varietals that are perfectly suited to compliment each other and bring the best of both. Arbequina, ripe and fruity with a great diversity of secondary aromas, especially apple and banana. Arbosana, fresh fruit olive with artichoke and green tomato overlay. Together they produce an impeccable flavor and aroma. Grab it for the perfect finishing oil for a burst of flavor, on toast in the morning to start the day off right, or pair up with your favorite balsamic for an exquisite garden salad dressing.
Tasting Note; Aroma is buttery with a fruity overlay, Medium Intensity
BUY NOW