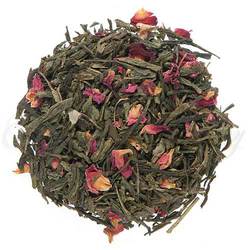 SENCHA KYOTO CHERRY ROSE
Quantity must be 1 or more
*******FLAVORED GREEN TEA*******
INGREDIENTS: Green tea, Rose petals
 INGREDIENTS FROM: India / China / Egypt
ANTIOXIDANT LEVEL: High
CAFFEINE LEVEL: Low
INFORMATION:
Hunan Province produces some excellent Japanese style green teas. Early in the new season the tea is a bright emerald green and has the best flavor noted by a spring fresh character with pungency and body.
Sencha is commonly used in Japanese tea ceremonies marking events of personal importance. In this type of ceremony it is the ritual that is of paramount importance as the individual is being acknowledged. Flavored tea is a relatively new phenomena and combining flavors with roses and Japanese style green tea is almost considered 'Avant Garde' by our Japanese friends.
Kyoto is the cultural center of Japan. Several centuries ago Kyoto was the religious capital of Japan. The relics of this past are evident throughout the city. Beside the multitude of temples that dot the city, and the wonderful parks where religious scholars once walked, the city has more the 1000 Torjii - those typical gate/arch structures that one associates with Japan. The Torjii are large with the top shaped like a curved samurai sword (respect) and the two pillars are solid and stately (well-being). During the springtime this area of Japan is ablaze with the new season cherry blossoms and the air is filled with sweet aroma. (The rose petals in this blend are intended to simulate these delicate cherry blossoms. The flavor is reminiscent of the beautiful smells that waft on the springtime breezes.) It is little wonder that this ancient city has a very high ratio of tearooms and this tea was created to honor (very important in Japan) this wonderful time of the year.
IDEAL BREWING TEMPERATURE: 85ºC/185ºF. For Food Safety reasons bring water to 100ºC/212ºF and let it cool down to 85ºC/185ºF.
HOT BREWING METHOD:
Bring filtered or freshly drawn cold water to a rolling boil. Place 1 slightly heaping teaspoon of loose tea for each 7-9oz / 200-260ml of fluid volume in the teapot. Pour the boiling water into the teapot. Cover and let steep for 3-7 minutes according to taste (the longer the steeping time the stronger the tea).
ICED TEA BREWING METHOD (Individual Serving):
Place 1 slightly heaping teaspoon of loose tea or 1 tea bag into a teapot for each serving required. Using filtered or freshly drawn cold water, boil and pour 6-7oz/170-200ml per serving over the tea. Cover and let steep for 5 minutes. Add hot tea to a 12oz/375ml acrylic glass filled with ice, straining the tea or removing the bags. Not all of the tea will fit, allowing for approximately an additional ½ serving. A rule of thumb when preparing fresh brewed iced tea is to increase the strength of hot tea since it will be poured over ice and diluted. (Note: Some luxury quality teas may turn cloudy when poured over ice. This is a sign of luxury quality and nothing to worry about!)
ICED TEA BREWING METHOD (Pitcher): (To Make 1 Liter/Quart):
Place 6 slightly heaping teaspoons of loose tea or 6 tea bags into a teapot or heat resistant pitcher. Using filtered or freshly drawn cold water, boil and pour 1¼ cups/315ml over the tea. Steep for 5 minutes. Quarter fill a serving pitcher with cold water. Pour the tea into your serving pitcher straining the tea or removing the tea bags. Add ice and top-up the pitcher with cold water. A rule of thumb when preparing fresh brewed iced tea is to increase the strength of hot tea since it will be poured over ice and diluted with cold water. (Note: Some luxury quality teas may turn cloudy when poured over ice. This is a sign of luxury quality and nothing to worry about!)